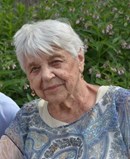 ROCHESTER - Laura P. Wisowaty, 95, died peacefully on Saturday, January 19, 2019, at Portsmouth Regional Hospital with her loving family by her side and Frank Sinatra playing in the background.
Laura was born April 4, 1923, in Boston, to Helen (Poczatek) and Zygmund Pietrowicz. She graduated from the Cambridge Latin School, and following World War II went to work for Raytheon in Watertown, Mass.
Upon marrying Stanley J. Wisowaty, the couple moved to Palo Alto, California. But every Christmas Laura would pack Stanley and the kids into the car to drive across the country to be with family. After eight trips back and forth, they returned to Massachusetts.
In 1975 Laura and Stanley purchased "The Farm" in Freedom, where they operated Bald Ledge Stables. Laura was always "game for anything," even learning to ride horses at the age of 50. She loved those twelve years on "The Farm" and was always busy cooking, gardening, tending to the animals, or tending to the grandchildren (who were always finding themselves in different predicaments!) They left "The Farm" in 1987, to move to Effingham, before retiring to Rochester.
For Laura, it was "all about art from the beginning." She was a beautiful painter, photographer, and seamstress, and had an incredible eye for fashion. In her late teens she worked at The Harvard Bazaar in Cambridge, Mass., as an assistant buyer, aiding in the fashion selections for the upcoming seasons. She dreamed in vivid color, and everything she did was touched by her artistic flare.
She is survived by her sister, Irene Taras of Waltham, Mass.; four children, Judith A. Hallisey and her husband, Dennis of Durham, James F. Wisowaty and his wife, Mary Alice of Rochester, Janice Brotherton and her husband, Steve of Bartlett, and Stanley J. Wisowaty and his wife, Iva of Candia; her seven grandchildren, Carolynn (Dennis) Pearson Dupuis, James Michael (April) Wisowaty, Jon-Michael (Meghan) Pearson, Laura (Joseph) Hallisey Wood, Dennis Matthew Hallisey, Marianna (Jake) Crabbs, and Michaela Brotherton; eight great-grandchildren; and several nieces and nephews.
She was predeceased by her husband Stanley J. Wisowaty and their son, Jon Michael Wisowaty.
Laura left an indelible mark on all those who knew her. She will forever be known as "Cookie Nana" by her great-grandchildren, and remembered for her prized dill "Nana" pickles and pink-eared Easter Bunny Cake. She was the matriarch of an amazing family. In Effingham, she adorned an entire wall- floor to ceiling- with family photos, and continued to receive photo updates daily while living in Rochester. She was so proud of her grandchildren and traveled to attend all of their college graduations and weddings. She took immense joy in spending time with her great-grandchildren. Her creative talents and family devotion have undeniably been passed down through her children, grandchildren, and great-grandchildren, and will surely continue for generations to come.