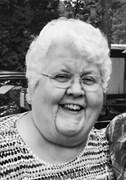 ROCHESTER - Lucille H. Carter, 77, of Joshua St. died on Thursday, Jan. 3, 2019 at the Hyder Family Hospice House after a brief illness.
Born April 25, 1941 in Dover, the daughter of the late George and Madeleine (Moore) Demers.
Lucille has lived in Rochester for the past 25 years after moving from Somersworth. She worked at several local shoe shops, but more recently retiring from EAD Motors in Dover. She enjoyed baking and sewing.
Members of her family include her husband of 12 years, Roger Carter of Rochester; her sons, Michael Smith and wife Nicole of North Berwick, Maine, and William "Bill" Smith and partner Tony Peregrin of Chicago; her daughter, Christine Mosandel and fiancé Eric Moore of Somersworth; her brothers, Raymond Demers and wife Linda of Dover, and Roland Demers of Dover; her sisters, Doris Grondin and husband Valmore of Springvale, Maine, Lorraine Goupil and husband Richard of Somersworth, and Irene Couture of Dover; as well as, many nieces and nephews.
She is predeceased by her infant sister, Loretta and her brother-in-law, Paul Couture.
The family would like to express their gratitude for the care that was given to Lucille from Dr. Henry Sonneborn and the staff at the Seacoast Cancer Center, as well as, the staff at the Hyder Family Hospice House.