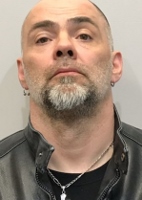 ROCHESTER - Police say a Somersworth man was arrested on Friday for being a felon in possession of a dangerous weapon as a result of an alleged break-in attempt at a Rochester motel.
When officers arrived at a room at the Anchorage Motel on Wadleigh Road around 7 p.m. officers found no disturbance, but arrested two of the individuals allegedly involved in the call.
Michael P. Sutton, 44, of 185 Main St., Apt. A, Somersworth, was arrested for being a felon in possession of brass knuckles, considered a dangerous weapon by statute; while Stacie Sutton, 41, of 40 Lafayette St., Rochester was arrested for possession of more than an ounce of marijuana and more than five grams of hashish.
Both are scheduled for arraignments next month.