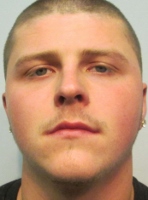 ROCHESTER - The Rochester man given a suspended sentence earlier this month for his part in a theft and assault inside a Rochester convenience store in March was back in county jail Thursday after his arrest on a bench warrant for alleged criminal threatening and disorderly conduct.
Dominic A. Peters, 20, of Goffstown, but formerly of Rochester, was taken into custody a little before midnight at an Academy Lane address.
Peters was sentenced on Aug. 1 for theft by unauthorized taking and assault in connection with the March 31 incident at the Knight Street Cumby's where he got into a heated exchange with a customer - a man he knew - before allegedly showing a knife and taking the man's money as he prepared to pay the cashier for items he was buying.
A felony robbery charge was dropped in June.
On Aug. 1 Peters got two concurrent 12-month sentences in county jail on the assault and theft charges, with each being suspended for two years on good behavior.
Rochester Police were not immediately available for additional information regarding the nature of the new charges.