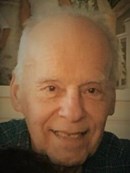 ROCHESTER - Thomas W. "Bill" Gagne, 80, died on Monday, February 18, 2019 at Frisbie Memorial Hospital after a brief illness. He was born in Worcester, Mass., the son of Thomas J. and Lillian (Blouin) Gagne.
He has resided in Rochester since 2009 previously living in Arlington, Mass. While in Arlington he worked as an electro-mechanical technician. Bill was an avid train enthusiast and woodworker. He especially enjoyed spending time with family.
The widower of Rita (Thompson) Gagne who passed in 2013, he is survived by son, Christopher Gagne, Rochester; daughters, Jennifer and husband Andrew Jackson, Rochester, Caroline and husband Bill Marchant, Billerica, Mass., Anne Gagne, Holliston, Mass.; grandchildren, Noah and Conner Jackson, Nicole and Billy Marchant; brother, Richard Gagne, St. Petersburg, Fla.; sister, Ann Doiron, Lady Lake, Fla.; and many nieces and nephews.