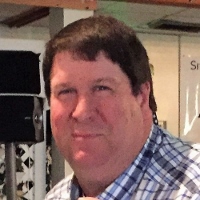 ROCHESTER - Timothy Stetson Cook, 59, of 4 Kendall Street, died suddenly Monday, November 27, 2017, at Frisbie Memorial Hospital in Rochester. He was born May 7, 1958, in Rochester, the son of the late Roland and Eleanor (Stetson) Cook.
Tim has resided in Rochester all of his life and was a graduate of Spaulding High School, Class of 1976. He worked as a materials handler for Aclara (formerly General Electric). Tim was an active member of the Rochester Elks Lodge #1393. An avid sports fan, he enjoyed the Boston teams and coached and refereed high school, youth basketball and softball. He enjoyed golfing and especially loved playing his music and singing karaoke.
Members of his family include his wife of 39 years, Susan (Sylvain) Cook; son, Keith Cook and his significant other Jaime Frost, all of Rochester; daughter, Kelly Cook Kasprzyk and her wife Amy, Danvers, Mass.; brothers, James Cook and wife Vicky, Farmington, N.H., John Cook and wife Angele, Rochester; sister-in-law, Kathy Akerman and her significant other Jim Clark, Rochester; brother-in-law, Michael "Soapy" Sylvain and wife Julie, Rochester; several nieces and nephews.