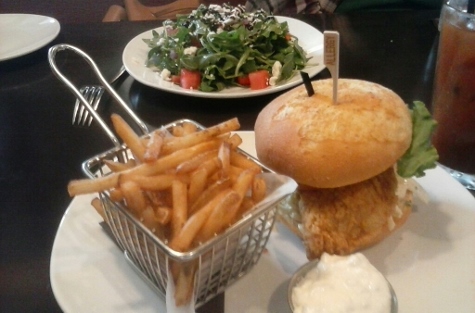 ROCHESTER - Has anyone with a gluten intolerance ever asked a restaurant waiter if the french fries are coated with flour only to be told, "I don't know, they come in a box."
And when you ask if they have gluten-free hamburg rolls, they roll their eyes?
Recently when asked if I wanted french fries or baked potato, I asked if the french fries were gluten-free.
"I don't know," said the annoyed server. "Just get the baked potato, you know that's OK."
Well, now you can stop the insanity and the insults. There's a new kid in town where they treat those with food allergens like rock stars, not rejects.
It's the 110 Grill at The Ridge where the food tastes as good as it looks, the service is supreme and the prices more than reasonable considering the quality. But it's the attention to detail that stands out.
The minute our server heard I had an allergy to gluten, she took special notice of my order.
When I was served it was by the manager, not the waitress.
"Anything with an allergy a manager takes over the order," he said. "That just how we do it."
So my deep fried fish sandwich ($12) came encrusted with a non-gluten coating on a gluten-free brioche roll, smothered with cole slaw and topped with a thick slice of tomato and tartar sauce on the side.
The french fries are savory, small-cut and come in a little fryolator basket.
The generous portion of fish was flaky and tender.
Martha had the watermelon salad ($8), which came with a feast of fancy greens, feta cheese, tomatoes and a watermelon vinaigrette dressing.
All gluten-free items, even the dinner rolls that come with a parsley- and cilantro-infused whipped butter, come with an allergy flag.
Harrison Thorp: Four and a half of five stars.
Martha Soto-Galicia: Four and a half of five stars.
Check out their menu at https://www.110grill.com/locations/rochester/.