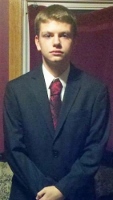 FARMINGTON - Benjamin Paul Combs, 18, of 21 Tappan Street, Farmington, N.H., passed into eternal life on Thursday, May 4, 2017, after suffering from severe depression. He will be remembered and celebrated as the everlasting joy of his family's life and for his loving kindness and thoughtfulness to friends and family.
His brilliant intelligence and wonderful sense of humor endeared him to all. Ben was a self-motivated learner with knowledge beyond his years of facts, people, and life.
He listened to classical music, symphony orchestra, and Frank Sinatra. His interests through the years ranged from karate, aviation, archery, history, travel, and cooking, to camping/hiking, Pokémon Go, superheroes, video games, and movies. He also loved to play mini golf and board games (especially Monopoly) and was an avid reader of comic books and major novels. Most recently he enjoyed building Legos and complex jigsaw puzzles.
Ben was close to all of nature and exhibited a special fondness for cats everywhere. He hiked 20 of the 48 New Hampshire Mountains in the 4000-Footer Club.
When depression was not overwhelming him, Ben had been at the top of his class academically. In the last year, he was employed at SkyTrans Manufacturing, where he learned to clean and test grips for ski lifts, sandblasting, forklift operations, and flame cutting. This winter, he worked with his Dad as part of the team to finish the Green Peak chairlift at Waterville Valley, making his Dad forever proud of him.
His inner quiet reflective nature did not begin to reveal his true self or the persistent courage he had as a young man.
Ben is survived by his parents Rachel Jane (Livingston)Combs and Richard Combs of Farmington, sister Margaret E. Combs of Farmington, and brother SGT Patrick D. Combs of Somersworth as well as grandparents George and Carolyn Livingston of Florida and many aunts, uncles and cousins, as well as his beloved cat, Puma.