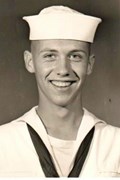 FARMINGTON - Charles P. Gorton, formerly of Spring Street in Farmington, died Tuesday, August 6, 2019 at the Rochester Manor, where he most recently resided. Born April 29, 1941 in Farmington, the son of Clifford A. and Norma (Harvey) Gorton, he was a lifelong resident there.
He was a Veteran of the Navy, having served aboard the U.S.S. O'Bannon.
Charlie was retired, a Machinist, after 34 years at the former Thompson Center Arms in Rochester.
He and his wife Loretta enjoyed their trips to the Grand Canyon, Alaska and Savannah, Ga.
Widower of the late Loretta Ann (Hagar) Gorton, who died in 2016, he is survived by their three children: Elizabeth Beaulieu of Middleton, Michael Gorton and Elnor Richardson of Farmington, Christine and husband Richard Hickman of Farmington; grandchildren: Derek Lapierre, Michael Gorton, Zachary Gorton, Britini Hickman and Dylan Hickman; two great-grandchildren: Gavin and Brooklyn Gorton; a sister Ruth Gorton; also many nieces and nephews.