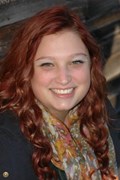 BERWICK, Maine - Emma Bolyard (Kimball), age 24, chose to end her life and her struggle with mental illness on Monday, July 22, 2019. Born November 14, 1994, Emma is the daughter of Steven Kimball and the late Heather Rosholt (McGilvray).
Emma graduated from Noble High School and continued her education with online classes. Emma made many friends at school, work, and throughout her life that were very important to her.
Emma is loved by many and will be greatly missed by her family and friends. She is survived by her father Steven Kimball and his fiancé Rhonda Gervais of Berwick; step-father Kevin Rosholt of North Berwick, Maine; spouse Brian Bolyard of Lebanon, Maine; brother Ethan Kimball and step-sister Ani Gervais of Berwick; grandmother Katherine James of Dover, N.H.; grandfather David McGilvray of Ayer, Mass.; aunts and uncles Sherrie and Stacey Royer, Pete and Gwen McGilvray, Robert and Heidi Cote; and a number of cousins. Emma is predeceased by her mother Heather Rosholt and her grandparents Robert and Nancy Kimball.