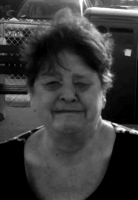 NORTH BERWICK, Maine - Gloria Dubois, 65, of Morrills Mill Road died Wednesday, July 6, 2016, in Lebanon, Maine, from injuries sustained in a motor vehicle accident.
She was born in Dover, N.H., daughter of Arthur and Maxine (Boston) Tuttle and attended Marshwood Schools.
Gloria loved gatherings with her family and numerous friends; her door was always open and her refrigerator always full. She hosted many wrestling pay-per-view parties, countless hunting seasons and any other event she could plan a party for at the Dubois Homestead. From Bingo to Poker, CB radios to annual fairs, she loved it all. She volunteered weekly for Bingo at the Greenwood Nursing Center and also for the Lion's Club.
Gloria especially loved her husband of 30 years, Charles Dubois and her "miracle baby" Kandice. The bond between the three was immeasurable. In Gloria's words, "This is Midnight, going 10-10 on the side."
She was predeceased by her parents, brother, Jones Tuttle, sister, Linda Harrington, and nephew, Ronald Harrington, Jr.
Surviving are her husband of 30 years, Charles Dubois and daughter, Kandice Dubois of North Berwick; two brothers, Wayne Tuttle and Maureen of Lebanon, Maine, and Todd Caron and his wife Justine of Deltona, Fla.; as well as several nieces and nephews.