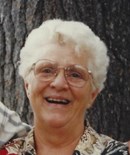 ROCHESTER - Janet Labrecque, 90, died on Wednesday, Sept. 18, 2019 at Wentworth-Douglass Hospital in Dover after a period of failing health.
She was born Dec. 25, 1928 in Rochester the daughter of John and Victoria (Beaudoin) Boivin. She was a lifelong resident of Rochester having graduated Spaulding High School, Class of 1947. Janet was a graduate of Notre Dame College, School of Nursing in Manchester and worked at Frisbie Memorial Hospital as a registered nurse for many years. She also did private duty nursing. She was owner and landlord for many rental properties in the area and did all of the repairs herself. She enjoyed entertaining family and friends and spending time at the lake. Janet especially enjoyed traveling with her husband, daughter and sisters.
The widow of Robert Labrecque who died Jan. 20, 2019, she is survived by her daughter, Nancy Labrecque of Rochester, sister, Corinne Turcotte, Godchildren, Karen Keefe and Wanda Chase; and as Jan referred to as Nancy's "other brothers and sisters," Tammy Brooks, Shaun White, Kevin White, Sharman Lyons and several nieces and nephews.
She was predeceased by her sister, Rita Lagasse.