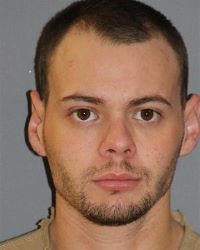 SOMERSWORTH - A local transient was arrested on Friday in an arson fire that occurred on Tate's Brook Road on Tuesday.
Darien J Young, 27, was charged with three felonies in connection with the case: arson of an occupied structure, burglary and possession of meth.
Young was initially arrested Thursday by the U.S. Marshals Fugitive Task Force on various charges out of both Strafford and Rockingham counties.
He was charged with the Somersworth arson case while being held at the Strafford County House of Corrections.
Young was arraigned today and is being held pending a future court date.
The alleged arson fire at 28 Tate's Brook Road, a single-family residence, was called in around 4:45 p.m. on Tuesday.
An investigation determined the fire was intentionally set and that various items had been stolen from the residence.
The home sustained moderate damage and is currently uninhabitable, safety officials say. The Somersworth Police Department continues to investigate this case along with the NH Fire Marshal's Office. If anyone has any information on this case, they are encouraged to call the Somersworth Police Department at 692-3131, our Anonymous Crimeline at 692-9111, or they may leave an anonymous tip through our Police Department web site via www.somersworth.com.
The Somersworth Police Department was assisted by the US Marshals Fugitive Task Force, the Somersworth Fire Department and the NH Fire Marshal's Office.