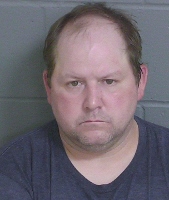 DOVER - A Somersworth man was arrested today just minutes after he is alleged to have robbed a Dover Walgreens of drugs.
Randy Eddy, 43, of 2 Jenness St., was charged with felony robbery and resisting arrest, a misdemeanor.
Police say Eddy entered the Glenwood Avenue pharmacy around 9:55 a.m. and demanded narcotics, a statement overheard by a witness who contacted police. After obtaining an amount of drugs, Eddy left the building where he was immediately confronted by an arriving patrol officer.
Eddy attempted to flee, but was quickly overtaken and arrested.
No weapons were displayed during the robbery, and no injuries were reported, police said.
The narcotics were recovered by the arresting officer.
Eddy declined the services of a bail commissioner and is being held at the Strafford County House of Correction for arraignment in Strafford County Superior Court on Wednesday.
Anyone with information about this incident is asked to call the Dover Police Department at 603-742-4646. Anonymous tips may be called into the Dover Crimeline at 603-749-6000 or via www.dovernhcrimeline.org.