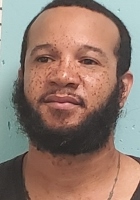 CARTHAGE, Maine - A Massachusetts man wanted on murder charges was taken into custody today after a daylong manhunt by State Police and other law enforcement agencies.
Derrell Guy, 34, of Lynn, Mass., was arrested without incident around 1 p.m.
Guy, who was wanted on a criminal arrest warrant out of Massachusetts for armed robbery and murder, fled on foot from Wilton Police on Monday after the car he was a passenger in was stopped on Route 2 around 12:30 a.m.
Guy remained at large overnight Monday, but around 11:30 a.m. today Maine State Police received credible information of a confirmed sighting of Guy behind a residence on Earth Way in the town of Carthage.
Multiple law enforcement agencies immediately responded and saturated the area. After a brief K-9 track with the Maine State Police Tactical Team, Guy was located around 1 p.m. and taken into custody. He was located on the Winter Hill Road in Carthage, some six miles from where he initially fled from police.
He was transported to the Franklin County Sheriff's Office where the U.S. Marshals Service will be charging him with being a fugitive from justice. He will then await extradition back to Massachusetts to face charges.
This operation was a combined effort from the Maine State Police, Maine Warden Service, Maine Forest Service, Franklin County Sheriff's Office, Wilton Police Department, Department of Corrections, U.S. Border Patrol, U.S. Marshals Service, the Maine State Police Tactical Team and Maine State Police Crisis Negotiation Team.