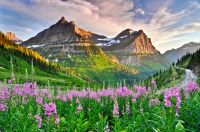 I recently returned from a three-week bucket list vacation visiting three of our national parks--The Grand Tetons, Yellowstone, and Glacier. Outside the parks most everything is open in those Red States. People who are vaccinated are not wearing masks. No one asks about another's vaccination status. One small town in Montana which I visited ended the mask mandate two weeks after the shutdown began. In Red States people are working for a return to normalcy.
The same cannot be said for our National Parks and the Native American lands which border the national parks. Other than Glacier National Park (which instituted a reservation system) the parks I visited were overcrowded with traffic jams entering and leaving the parks; food was scarce; and there was little or NO sit-down dining. Also, the native Americans lands surrounding the parks required masks no matter what your vaccination status. If you are planning a trip this year to those National Parks, think seriously about cancelling your trip and re-scheduling it for next year.
The gas lighting politics over the past year and the Covid-19 lies are still running rampant. After having been confined for the past year, an overwhelming number of people are heading for our National Parks. The government has failed in its leadership role to reopen our National Parks.
Amongst the beauty on display, politics follow the individual. You will hear Liberals speak about climate change not considering natural environmental changes, talk of Federal unemployment compensation and deny its impact on the lack of workers, and of course Trump derangement syndrome comments are overheard. National Parks currently are understaffed and under supplied to support visitors. Those individuals who are working in the parks genuinely love our national treasures.
Considering these experiences, I would like to offer some tidbits of advice as the summer vacation season gets into high gear no matter where you travel--near or far.
Do not go to a national park without accommodation reservations.

If you plan to visit a national park next year, make your reservations a year in advance.

If you do go to a national park, bring your own food, and enjoy picnicking, or plan to stand in long lines and eat a lot of pre-made sandwiches and burgers.

Be patient and kind to all you meet especially those who are working under difficult circumstances. Be sure to say thank you and tip generously.

When utilizing the services of businesses outside the park, remember that those businesses are returning from the brink of closure. Be flexible and understanding.

When you hear political statements from others, ignore them.

Wear a smile and simply be grateful that you are out of lockdown.
We can return to normal--not the liberal/progressive "new normal"--if we are patient, kind, listen to the science, and ignore brainwashed liberal progressives and media. Do not allow the government to limit your freedom to enjoy family and friends.
Cheryl Russell is a former high school teacher and 30-year employee with the U.S. Department of the Treasury. She lives in Dover.