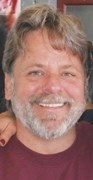 MILTON - Richard "Dick" Grant, 61, of Evergreen Valley Road, died unexpectedly at his home Saturday, February 2, 2019. Born April 30, 1957 in Dover, he was preceded in death by his parents, Donald and Pearl (Wells) Grant and his daughter, Jillian Grant.
Dick had lived in Milton since 1996 after moving from Rochester. He was self employed as a sign carver owning and operating his Company "The Sign Carver" at fairs, shows and Lilac Mall. Among other jobs he was employed as a flight attendant for Pan Am Airlines.
Dick was an amazing husband, father, grandfather and friend with an incredible sense of humor, he enjoyed reading books, singing and playing guitar. He enjoyed meeting all the people who he met through all his endeavors in life. He will always be remembered as the infamous temporary tattoo guy at Hampton Beach, since 1985.
His greatest love in life was his family and his grandchildren who all called him Grumpy. He had a very special bond with his grandson and best friend, Brayden Bushong.
Members of his family include his loving wife of 34 years Charlene (Bearse) Grant of Milton; his daughters Andrea Grant of Fla., Christina Segura and her husband Brett of Miss., Amber Aston and her husband Dennis of W. Va., Tammy Bushong and her husband Glenn of Rochester; his brothers Robert, Dave and Chuck Buckley; his sisters Kate Buckley and Dolly Grant; his seven grandchildren Tasha and Beth Hedden, McKayla and Jenna Segura, Alexis and Hunter Aston and Brayden Bushong and great-granddaughter, Macie Young.
He will forever be loved and missed by all.