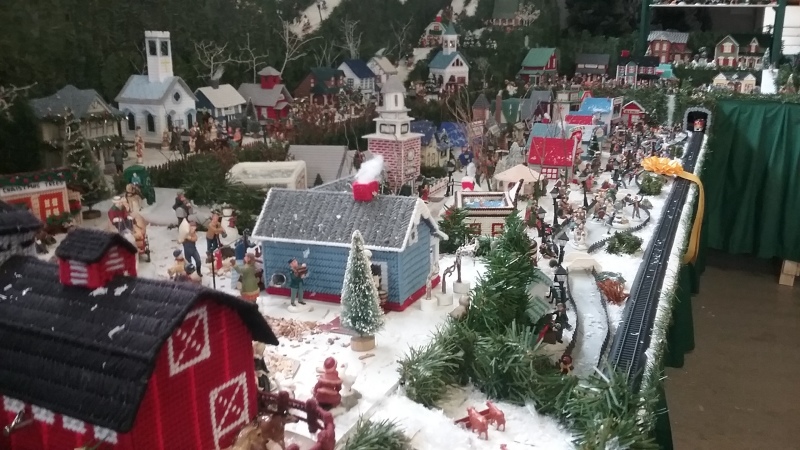 ROCHESTER - Catherine Britton of Rochester has been putting together her vision of an old-timey New England village handmade piece by piece for years, but it won't be until Thursday when the Rochester Fair opens at 3 p.m. that the public will get its first glimpse at her incredibly detailed handiwork.
Britton, an octogenarian, has been building the miniature pieces over the last decade, often putting portions of it together for family to enjoy over the holidays, Rochester Fair Arts and Crafts Superintendent Annette Plaisted said on Monday.
Lynda Hartley of Strafford, left, and Marlene Allard of Barrington do some judging in the crocheting and knitting category on Monday inside the Exhibition Hall.
Britton's creation has been awarded the Frances Garland Memorial Award and will be a centerpiece of this year's arts and crafts display in the Exhibition Hall.
Garland was a longtime head of the fair's Arts and Crafts Department in the 1970s and '80s, Plaisted said, and Garland and Britton had been close friends.
Over the years Britton has continued to add features to her miniature masterpiece, which is classified as a "needlepoint" genre for the purposes of judging, Plaisted said.
Don Plaisted of Elmira, N.Y., and Katie Hilton of Dover put the finishing touches on the Primitive Exhibit Area inside the Exhibition Hall on Monday.
It comprises about 300 figurines, some 100 structures, including stores, schools and churches, and a working train that circumvents the village traversing the downtown and its mountainous countryside.
"When it's all lit up it's very impressive," Plaisted said. "The kids will love it."
Plaisted said more than a dozen volunteers had been working nonstop since last week getting ready for Thursday's opening.
According to Rochester Fair Director Nancy Gilbert, the opening will again feature longtime Rochester Fair Ambassador Joel Sherburne, who will arrive with the fair's unofficial manager Mark Perry aboard a tractor at 3 p.m. at the Exhibition Hall.
This year's fair will run eight days over two Thursday through Sunday stints.
On Monday the fairgrounds were abuzz with midway preparations well under way, including the big roller-coaster first introduced last year. Nearby camels relaxed in the shade under a tent, while Fiesta Shows personnel set up various attractions and carnival games venues.