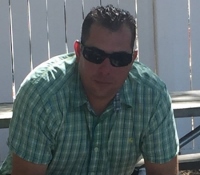 ROCHESTER - Thomas S. "Tom" Perry, 35, of Duquette Street died peacefully on Monday Sept. 7, 2020 at his home after complications of heart disease.
He was born July 26, 1985 in Dover, the son of Scott Perry and Gerri (Newcombe) Lane. Tom has resided in Rochester for 17 years and worked in Market Basket as a front-end clerk. Tom loved collecting and using his gas-powered cars and helicopters. He also enjoyed working in the trades and his tools.
He is survived by father Scott Perry and wife Kathy of Dover; mother, Gerri Lane of Rochester; sisters, Jen Perry of Ipswich, Mass., Alison and husband Mark Jedicke of Dover; nieces, Ava and Anna; many aunts, uncles, cousins and extended family. He was predeceased by his stepfather Samuel Lane.