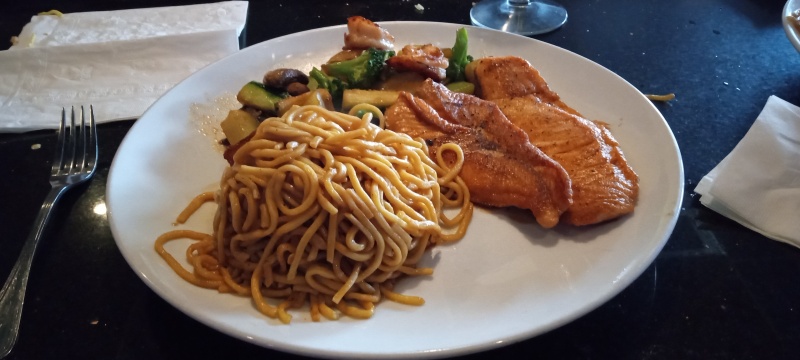 DOVER - Ikko Sushi and Japanese Steak House not only serves up delicious Japanese cuisine, their hibachi chefs serve up a culinary show in which they not only cook your meal before your eyes, but also show their cooking utensil acumen, squirt streams of saki into diners' mouth from several feet away and pop vegetable bites into the air to see if you can snag them on your tongue.
We went to celebrate my daughter's birthday, and there were at least four other parties there doing the same thing.
A few minutes after we placed our order, our hibachi came to our table, which was connected to a table grill he fired up with a burst of flame.
Working from a table diagram that indicated who got what, he skillfully grilled up our vegetables, noodles or rice and our desired protein before our eyes.
Each hibachi dinner came with Japanese onion soup, salad, a protein or vegetable entree along with vegetables.
I got the salmon, which came in two pieces I would guess comprised a half pound for $28.50. It was beautifully seared and very flavorful.
Sara got the lobster tails for $36.50. They, too, were delicious.
The rice noodles, which are gluten free, were a surprise hit.
During the time our hibachi chef was cooking our meal, he showed off his acumen with knife and spatula and gave all the adults a squirt of saki.
When he begins the squirt, everyone at the table starts counting out loud, just for the record book: "1, 2, 3, 4, 5." I think I won the table bragging rights, getting all the way to 7!
The portions our huge, because as you finish your plate, our hibachi chef would pile on more.
And when we were done and everyone wanted a doggie bag, our waitress offered to take care of that, too.
The lunch special hibachi items range from $12-$18.
Their menu is huge, so check is out here.
Ikko's located at 879 Central Ave just south of Dover Bowl.
Their phone is 603.343.1777
Food ★★★★
Atmosphere ★★★★★
Service ★★★★