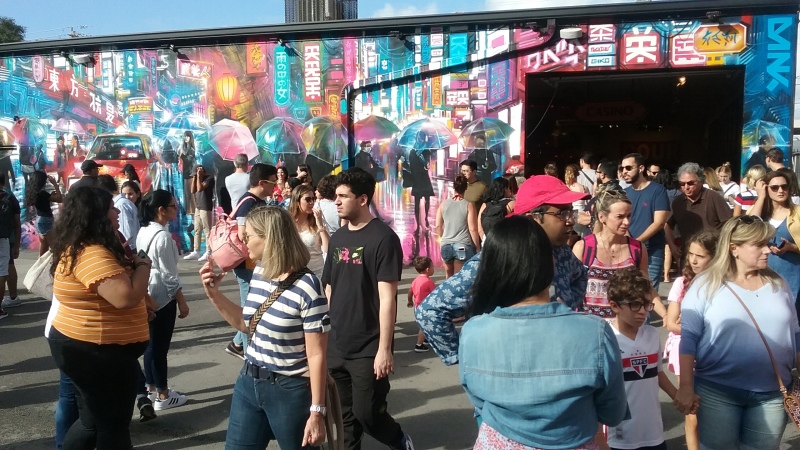 Editor's note: This is another in a series of articles about The Rochester Voice's recent visit to Miami
WYNWOOD, Fla. - Just north of downtown Miami lies a neighborhood full of the blight of homelessness, poverty and despair.
At least that's the way it used to be.
Long known as "Little San Juan" after many Puerto Ricans immigrated here in the 1950s, this neighborhood known as Wynwood has seen a booming revival in the last decade fueled by street art that blossoms on vacant buildings and warehouses that were shuttered long ago.
YOU GOT TO PEDAL FOR YOUR PILSNER: Trolley riders pedal their trolley along while enjoying some cold drafts.
The section of Wynwood that comprises this bustling tourist mecca is about 20 square blocks, and on the recent Saturday that we visited, it was teeming with tourists from around the globe.
The main attraction is the urban artwork that covers many of its buildings. We parked a few blocks from the center next to a cement factory amid vacant graffiti-strewn structures.
Out on the main boulevard the crowds were as thick as
HE HAS THE MEATS: An entrepreneur cooks up ribs on the street for hungry tourists.
Times Square with thousands of tourists excitedly taking snapshots or selfies in front of some of the masterful artwork.
Bustling by us at one point was a pedal bus with about a dozen passengers happily using their foot power to transport them around the area while sipping beer drawn from a tap installed at the rear of the vehicle.
Nearby an enterprising chef had a smoker cooking on the sidewalk, serving up ribs and other barbecue to passers-by.
At one point we entered an arched edifice that guided us to a massive outdoor bazaar that
A man who tried to win $100 by hanging from a bar for two minutes only lasted about 40 seconds before he dropped out.
included scores of boutiques, bars, jewelry kiosks and other assorted specialty shops.
Near the entrance men lined up to "hang out" for a bit, paying $10 to try their luck at hanging from a bar for two minutes; if they made the two-minute mark they won $100.
We watched several try their hand, but none could make it, one actually dropping to the ground just 10 seconds shy of winning the money.
The area is peppered with high-end art boutiques, restaurants and nightclubs, many with outdoor patios.
The heart of the district is an outdoor park where major works of urban art are displayed focusing on the diversity that abounds in the city of Miami.
We learned that prior to this becoming an art mecca, it was home to hundreds if not thousands of the homeless.
Sadly, as we left, we found that just a few blocks from this oasis of art and entertainment the homeless remain, still homeless, just moved along in the name of progress.
Some of the whimsical art that covers the buildings of Wynwood.